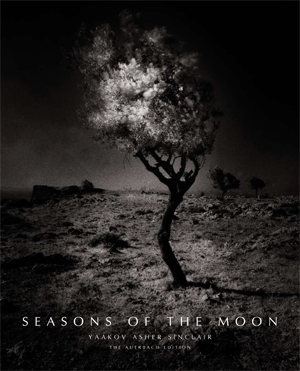 SEASONS OF THE MOON - The Auerbach Edition.
How to buy the book
One of Amazon's Favourites
Book Preview (976KB pdf)
For more than a decade I have had the honor of being able to create the
Seasons of the Moon
series - monthly essays and original collector's art photography - with a readership of thousands.
Now, with the generous sponsorship of Mr. Neil Auerbach, I have created a collector's volume of
Seasons of the Moon,
in which I am presenting over seventy-five photographs - I think some of my finest work - printed in exquisite warm palette quadtone inks in over 170 pages, together with some of my most popular essays and poems.
Seasons of the Moon
explores mystical themes and events in the collective Jewish experience: its festivals, its seasons, its history - its legacy. I am delighted with the result, which I believe is a unique synthesis of intriguing concepts and captivating images.
The book is exquisite, and I thank David Spivak of Focus Publishing and Bob Tursack of Brilliant Graphics for doing an outstanding job on the production.
My teachers and mentors have had very nice things to say about
Seasons of the Moon:
This book is truly special . . . a true masterpiece . . . "
Rabbi Yaakov Hillel
Seasons of the Moon is a source of Torah light . . . "
Rabbi Mendel Weinbach
SEASONS OF THE MOON -
THE AUERBACH EDITION
- $54.95 (PLUS SHIPPING)
How to buy the book
Book Preview (976KB pdf)